Contact Us for further details regarding integration or pricing

Log in to our Web-based SMS application
CIS's SMS service allows us to communicate quickly and cost effectively with various groupings. It is really simple and easy to use and has saved us hours in time and plenty in costs. Thanks for bringing simple effective use of technology to us.
Dave Larkan,
Managing Director
Freshmark Systems (Pty) Ltd
SMS Services
Send the same SMS to many clients easily using our web interface (simple to use, maintain your numbers in an excel spreadsheet and send by just copy and pasting numbers and typing an SMS) OR integrate with our service to send automatically from your backoffice application.
Bulk pricing is available.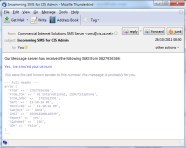 We will route any replies received to your outgoing SMS Messages back to you at your email address with full meta data and tracking information.