Free trial, no commitment required. Ongoing costs range from R300pm.
"Technofresh is a company that corresponds with over 3000 Fresh produce suppliers and in order for us to get our message across and communicate effectively we need a reliable and scalable platform. For this purpose CIS Mailing lists is absolutely ideal. We get our messages out to our clients immediately and reliably. The system works very well and is easy enough for any user to manage. Thank you CIS for an excellent product!"
Rodney Trollip
Manager
Technofresh (Pty) Ltd
Email Marketing / Bulk Email distribution
Distribute updates, newletters, pricelists to your clients easily and within the law
Simple - No HTML templates or complicated web applications - drive this product from your normal email client - MS Outlook, Mac Mail, Entourage, Thunderbird or any other email client.
Compliant - Opt out / unsubscribe mechanisms to ensure your clients wishes are respected. We include both Single Click to Unsubscribe and List Unsubscribe automatically.
Reporting - Use our built in reporting or integrate your email campaign with your website's Google Analytics - full walk-through instructions provided.
List Management - Use our web interface or integrate with your back office systems.
Please see our Conditions of use and Setup Requirements.
Our pricing is not based on the number of emails sent, but rather the total volume of data sent.
If your emails are each around 500kB in size
If your emails are each around 250kB in size
If your emails are each around 25kB in size
Costs
number of emails you can send per month
cost per email
number of emails you can send per month
cost per email
number of emails you can send per month
cost per email
R300pm

2100
14.29c
4200
7.14c
42000
0.71c
R850pm

10500
8.10c
21000
4.05c
210000
0.41c
R1800pm

30000
6.00c
60000
3.00c
600000
0.30c
R2500pm

55000
4.55c
110000
2.27c
1100000
0.23c
Attachments can become up to 1.5X their original size in an email, if you're not sure of how 'big' your email is, contact us including a copy of a proposed email and we'll let you know for sure!
We will re-evaluate your price plan periodically based on the previous months usage (IE Average usage over a month applies). The system will show you your predicted price plan based on the previous 30days usage each time you log on. It also provides many ways to monitor usage.

Tired of your emails ending up like this when they're received?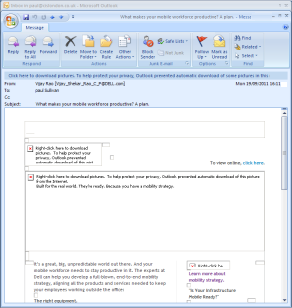 We don't force you to include your images from a remote source.