SIP Trunks and iPBXes are more complicated than a traditional POTS* solution, in much that same way that email is more complicated than sending a letter...
It is more complicated, but like email, once it's all set up and working it is easy.
As easy as writing an email!
*POTS = Plain Old Telephone System
PBX = Private Branch Exchange
iPBX = Internet Protocol Branch Exchange
ISDN = Integrated Services Digital Network
SIP = Session Initiation Protocol
Understanding VoIP / Internet Telephony
In a traditional environment we would expect to find an Analogue PBX with an analogue (or ISDN) trunk(s) to Telkom. The PBX could be owned or (more likely) leased. The traditional revenue model is that the hardware is under a lease agreement providing the supplier with a revenue stream. Telkom chagres you for calls.
Due to the nature of telephone systems changing PBXs is non-trivial, once you are in a lease you're likely to continue it. The equipment will age.
The setup would look something like this: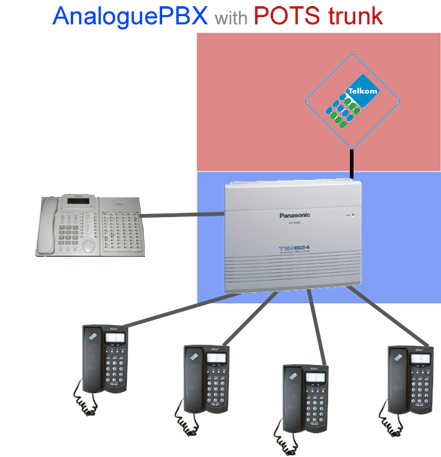 You're getting a Telkom bill for line rental and calls and bill from the PBX provider who you likely seldom or never see.
Adding a new Trunk
The simplest first move is to either replace the Analogue or ISDN trunk (red section) with a SIP trunk from CIS. See Testimonial from Dave Larkan at Freshmark Systems (Pty) Ltd
At this point your per call billing will switch from Telkom to CIS. CIS has good relationships with IS and Telkom, we buy their services in bulk, add some value and mark up and we bill out clients.
We can do an analysis based on an itemised call bill to show what our cost for those calls would have been - once calls are routed through us we can provide real time cost information for calls dialled and we can integrate with billing systems if you charge clients for time spent on calls.
Replacing the PBX and Telephones
Inter office - communication Higher quality calls on offices trunked together
International breakout
Better disaster recovery options
See a full list of features at /IP-PBX-SIP-Asterisk/